A different, better local government
On the campaign trail, I'm committed to taking in different perspectives and finding common ground in the pursuit of best solutions for the universal issues affecting us all.  I will carry that forward as a commissioner to bring a cadre of local experts to the table.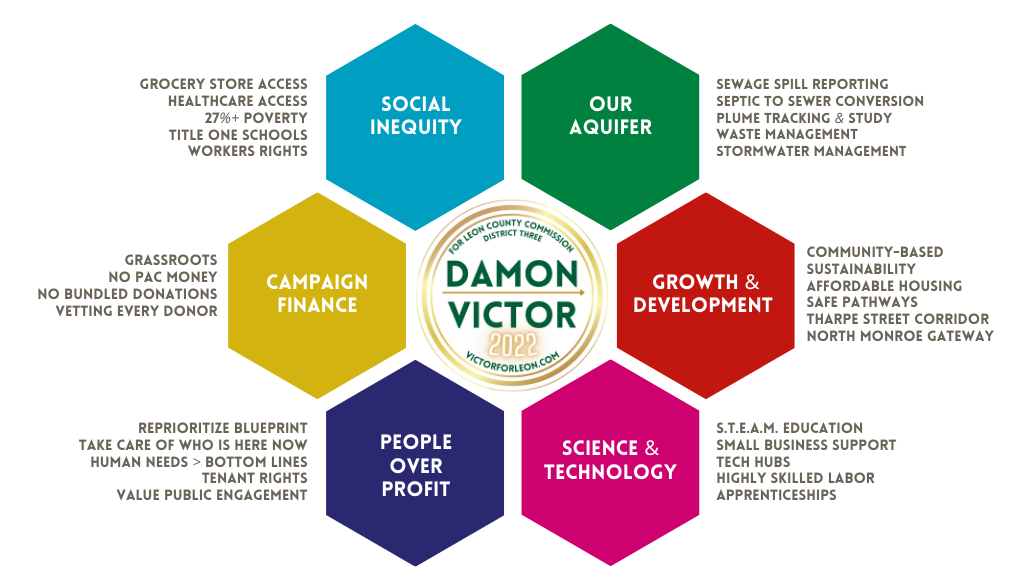 What office are you running for?
I am running for Leon County Commission District 3.
I want positive change for Leon County. Like many people, I've watched seemingly senseless decisions made time and again that go against the public interest. This has had serious consequences for us in District 3 and everyone in Leon County. I am sick and tired of Tallahassee and Leon County being misled. People want change, and I've been fortunate enough in life where I can stand up and be that change. Residents across Leon County and District 3 are dissatisfied with our leaders, and we are distrustful of the process.  
Much-needed improvements to the Tharpe Street corridor have gone ignored for 20+ years while $80 million for the Welaunee development in the Northeast of Leon County jumped to the top of the priority list.  Our priorities need realigning to the original purpose of the penny tax.
Last year, when I saw the $27 million giveaway to FSU to Doak Campbell Stadium initiated and the flawed process by which it happened, that was the last straw for me — I knew someone had to do something.  
Despite voting for the Doak improvements twice before, the incumbent finally changed his vote after months of pressure our community put on him to represent us.  It should not have to be this difficult to hold our elected representatives accountable to the consequences of their votes.  One good vote on December 9th can't unring the bell of Welaunee or voting to enact additional ordinances against those experiencing houselessness.
What changes will you be striving for?
Common-sense ethics reforms regarding lobbyists, campaign finance, and no-bid contracts. The Blueprint staff appointments orchestrated by now-convicted felons must be reviewed. Overhauling the system that stifles public engagement in creating public policy. Making the effort to build genuine connections to make all citizens feel valued; ensuring our county is safe and welcoming to everyone. Reprioritizing Blueprint projects  to bring the quality of life up for all residents.  Reviewing contracts and contacts to find new and innovative ways to leverage our natural resources.  
We are challenging the whole political system of local government, and its history that has brought us here. We represent a new, organic alternative to an old political machine that doesn't work for people. People know there's something going on here that's not right: we've been ignored, and it's time for a change. Grassroots efforts are gaining momentum in the last few years, and it's time that a majority of the Commission reflects that positive movement.  
Receive emails detailing our plans, news & events affecting District 3